Instant impacts at new positions, acrobatic catches and proud teams already asserting their dominance highlighted the 2019 Louisiana High School Officials Associations Football Officials Camp at West Monroe High School Friday evening.
Ten area teams competed in the scrimmage with West Monroe, Neville and St. Frederick turning in dominant outings. 
West Monroe 21, Ruston 10
With limited possessions in two 15-minute halves, every turnover counts. That's why returning West Monroe starter Malcolm Moore's fumble recovery on the second play of the game was pivotal in a 21-10 Rebel victory.
The Rebels exchanged the turnover for seven quick points when senior quarterback Garrett Kahmann found Bastrop transfer A.J. Fenceroy on a slant to eventually set up a 5-yard touchdown pass to Jerry Day. Kahmann and Day linked up for two scores in the scrimmage.
"(Day) is the most improved player on the roster heading into this season," West Monroe head coach Jerry Arledge said.
On the ensuing possession, a 45-yard pass from Ruston quarterback Jaden Procell to Cam Crowe set up an eventual field goal for the Bearcats. Ruston got the ball inside the 3-yard line, but Rebel defensive lineman Ty Allen recorded back-to-back tackles for loss to force the Bearcats to settle for three points.
West Monroe added to its lead before halftime with another Kahmann-Day connection. This time the two connected on a 35-yard touchdown.
In the second half, backup quarterback Lane Little tossed a 20-yard touchdown to Kade Pittard, who knocked through the extra point immediately after.
Arledge rotated in many bodies on offense and defense in the second half.
Ruston scored a touchdown with three seconds remaining in the scrimmage.
Heading into the 2019 football season the Neville Tigers were going to try something a little different on defense.
Iken Tankchell moved from inside linebacker to edge rusher this summer, and against Oak Grove, Tankchell recorded tackles for loss on option keepers and put consistent pressure on Oak Grove's offense. So far so good for Neville's little experiment.
"His athleticism, speed and strength will serve him well at the new position," Neville head coach Mickey McCarty said. "He has a lot to learn at that position, but I thought he did a good job tonight."
Despite it being Aug. 9, the Tigers passing game looked way ahead of schedule, and that's without starting quarterback Andrew Brister in the lineup. While the senior gunslinger heals from offseason ankle surgery — McCarty believes he will be back for week one — sophomore quarterback Brett Batteford stepped in to operate the offense.
"(Oak Grove) had some good looking kids up there," said McCarty in reference to two D-I (FBS) bound Oak Grove defensive linemen. "It was a good team to scrimmage against up front, and overall, I'm pleased with the scrimmage." 
Neville scored on its first possession of the game when Batteford connected with Derryck Dorsey on a receiver screen that Dorsey transformed into a 45-yard touchdown.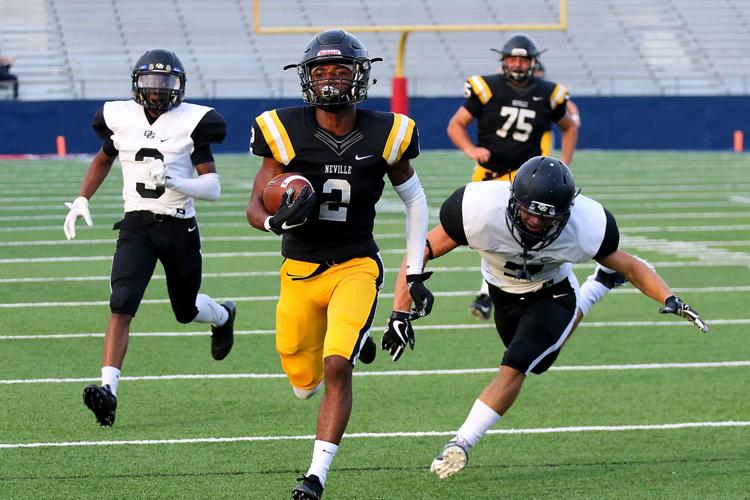 The Tigers added to their scoring total in the second half with a Javon Carter five-yard touchdown run. The play was set up by a Charles Straughter interception.
It wasn't all good news from the scrimmage. Oak Grove's Nick Sciara went down in the first half with what appeared to be a dislocated ankle among other potential ligament damage. Neville players ran off the field shouting his foot was sideways before the training staffs rushed onto the field. The Oak Grove offensive guard was stretchered off and taken in an ambulance.
Not all offenses were off to quick starts like the Rebels and Tigers. Ouachita's struggled to find that same kind of rhythm in the preseason.
There were misfires in the passing game, and the Lions struggled to block Bastrop defenders up front.
Meanwhile, the Rams took advantage of the Lions missing last year's leading tackler, Carl Glass. Glass had his wisdom teeth taken out this week and isn't expected to miss any more scrimmages this summer.
The Rams rattled off impressive runs throughout the scrimmage and scored their only points on a 27-yard pass from Quadarrius Scott.
It wasn't all bad news for the Lions, though.
Despite drives stalling out, Ouachita quarterback Zach Shaw made a few plays in the passing game, like when he evaded Bastrop defenders in the backfield and found Boris Richard for a 25-yard gain on third down. That's the moxie and poise Ouachita coaches are hoping to build off of.
And the defense had its moments too. Phillip Bradford and Devin Gix recorded tackles for loss in the scrimmage.
Fatigue wore the West Ouachita Chiefs down.
With the scrimmage beginning at 5 p.m., Matt Middleton knew the heat would become a factor. He just didn't know his defense would be on the field for the entire second half, minus three offensive plays.
"The bottom line is we're drastically better on defense," Middleton said. "Look at what we did in the first half. They had a couple three-and-outs. They had that one long drive at the end of the first half and then that one long drive in the second half. We were flat out of shape and tired with guys playing both ways. We have to get in shape."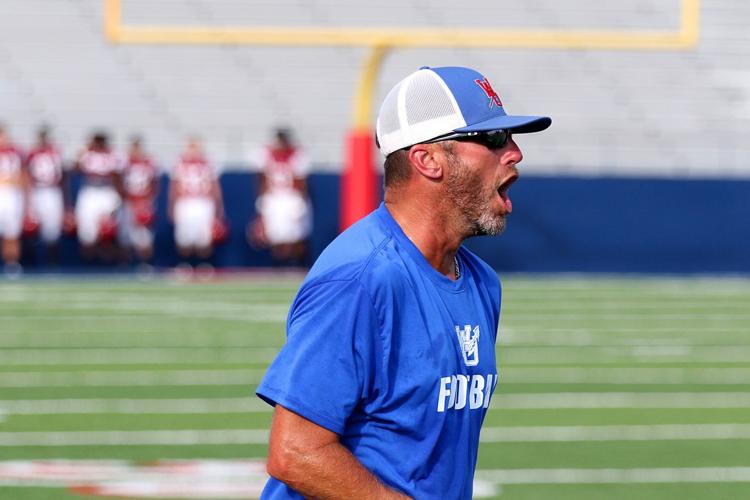 Union's final long drive culminated in a four-yard touchdown run from Treyvion Holley with 30 seconds left.
The first half was West Ouachita's.
Senior running back Alfred Cole ripped off a 42-yard run on the opening possession, and fellow senior back Tobias Owens broke an outside run for 57 yards on a third-and-long later in the half. However, all the Chiefs had to show for it was a 20-yard field goal from Luke Stagg.
"We've got to finish drives on offense," Middleton said.
Brady Ryals and Brendon Crawford split reps at quarterback.
In the second half, Dillon Williams recorded an interception for the Chiefs.
St. Frederick 13, Delhi Charter 0
There are acrobatic catches and then there are the ones St. Frederick's Pat Williams made over smaller defenders. One of the top pass catchers in Northeast Louisiana reeled in a 31-yard reception to set up an eventual 13-yard touchdown pass from Alex Rightsell to Beau Bennett in the first half for the Warriors.
While the Warriors lit it up through the air, the defensive line made play after play up front. Sophomore defensive tackle Tyler Melina had a stop in the backfield and another for no gain. Meanwhile, Jeremiah Willis had another tackle for loss for the Warriors.
"We're excited about our defensive line," St. Frederick head coach Andy Robinson said. "We have some experience there with Beau Bennett and Jeremiah Williams. Brendan Woods is coming along, and once we get Denterrius (McHenry) back, we are going to lean on those guys to control the line of scrimmage."
Delhi Charter's Jeffrey Williams reeled in a tipped Rightsell pass for the interception in the second half, but the Warriors rebounded with a Will Ellender pick six to cap the scrimmage.