The 2021 baseball season reaffirmed a belief that John Parker has at Ouachita Christian. Kids can handle a whole lot more than some adults think.
Eagle baseball players had to prove that notion in order to thrive in 2021. Not only did players and coaches face the struggles that accompanied playing sports during a pandemic (which made the simplest things like supplying water to players complicated), the baseball team had to navigate an entire season without a hitting facility on campus while losing its top hitter/pitcher to a season-ending injury. The Eagles were the up to the challenge, though, and finished the season with a Division IV State Championship, making Parker The Ouachita Christian's 2021 Baseball Coach of the Year.
"It was stressful during the season," Parker said. "But it's enjoyable now, looking back on things. When the final out was made and we got to see what all our guys were able to overcome, it was just so satisfying to know our kids were so resilient. Everything we threw at them this season, they responded."
Before OCS recorded a 27-10 record and defeated Opelousas Catholic to win the school's ninth state championship in baseball, Parker and his coaching staff had their hands full on campus. During the February snowstorm, OCS' hitting facility took the biggest brunt of the damage on campus.
"The weight, just like at other places around town, caused the roof to come down on the metal frames and beams, causing it to bend inside," Parker said. "When we went into the cages later that week, there was a lot of water that was coming inside the cages because of the damage that had been done. When the insurance adjuster came out the following week, they brought an engineer with them and he condemned the building. So we had to move everything out. The girls had damage, as well, so there were no cages on campus for us to use."  
Life's curveball forced OCS to use D-BAT Monroe's hitting facilities twice a week. The Eagles would also hit some at the Osterland Recreation Center, as executive director of the East Ouachita Recreation District Gene Crain opened his doors to the Eagles.
"I really do think the lack of facilities on campus factored into our hitting this year" Parker said. "Our inconsistencies… There were times where we hit really well. Times we didn't."
OCS got along just fine, despite the unconventional practice schedule. OCS even picked up a win against West Monroe along the way, where Alabama signee Kade Woods put on a performance that even West Monroe spectators marveled at. One Rebel assistant later put it, "You always hear about guys throwing 90 (m.p.h.), and they ain't throwing 90. He was legit touching 94 like a Major League (Baseball) pitcher."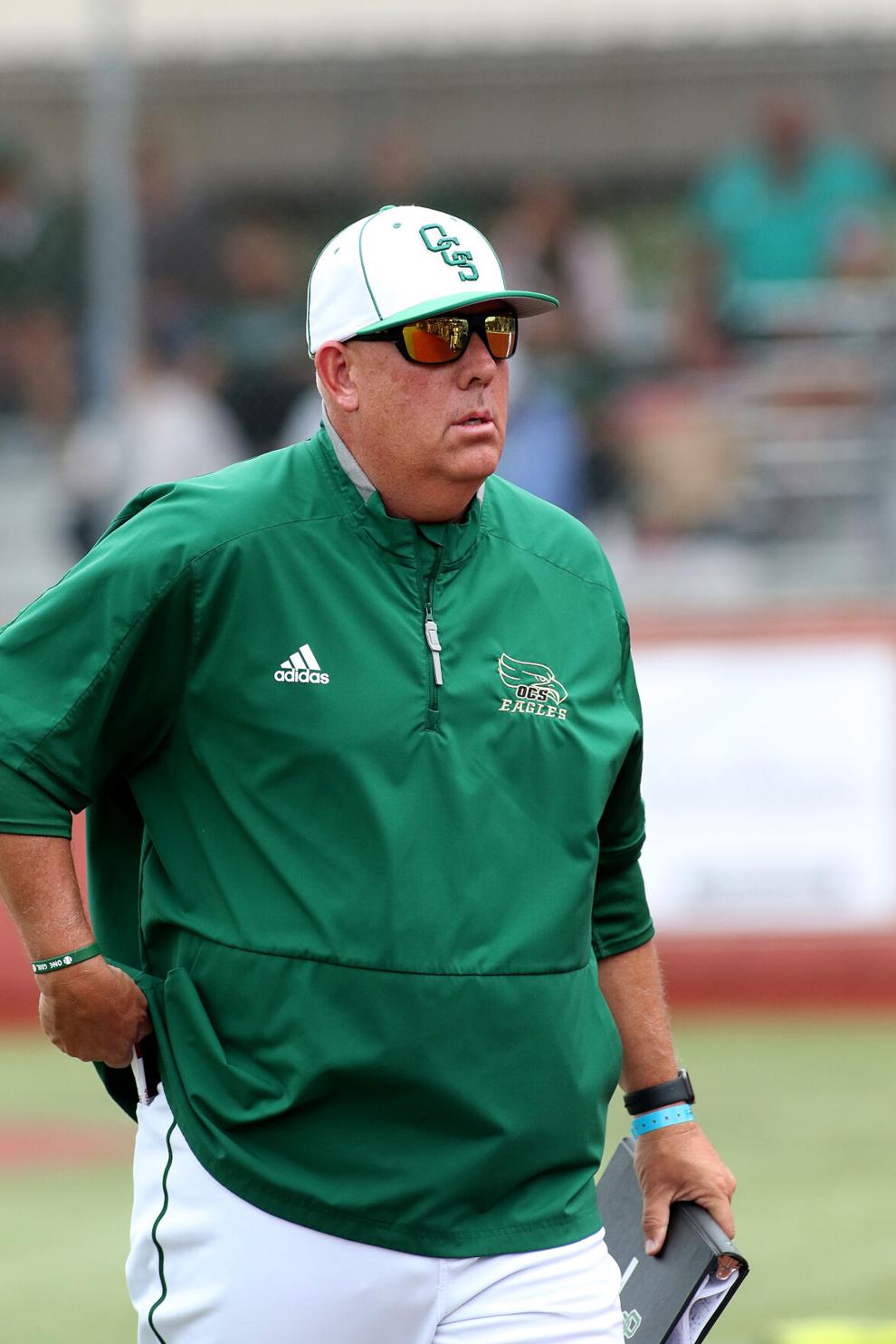 Shortly after Woods struck out nine of the 12 batters he faced against West Monroe on March 19, he discovered he had a season-ending partial distal tear in the UCL. Suddenly OCS was down its ace and most productive bat in the lineup. Parker's message was next man up during the course of the season, but thinking back on it now, he acknowledged just how big of a blow that was for his squad.
"As a coach, my job when you have an injury or multiple injuries is to rally the troops," Parker said. "When you hear that news as a coach, you take a deep breath. Our focus at that time was on Kade. He knew we loved him and cared about him. You look back on it and obviously the things that we were able to accomplish, it feels good to know the kids came together as a team. Kade was a huge part of that. He contributed and also had positive energy at practices and in the dugouts of games."
Parker challenged his pitching staff, and players like Jacob White, Aden Harris, Cal Idom and Ryley Calhoun answered the challenge.
"Those four guys threw a majority of the innings," Parker said. "Jacob had his best performance of his career in the semifinals. He had two earned runs in the playoffs. He had two shutouts (including the 3-0 victory against Catholic – Pointe Coupee in the semis) and only allowed two runs against Covenant Christian. Aden Harris and Cal Idom split their games and gave you different looks. It worked really well for us. And Calhoun didn't get a chance to pitch in the playoffs, but he threw a shutout against Lakeside right before the playoffs. Those four seniors stepped up their game."
Pitchers weren't the only ones who elevated their play. The bats did too, and more specifically, senior infielder Jon Michael Cader.
"People over look Jon Michael, but he was our most consistent guy," Parker said. "When Kade got hurt, he was just behind him in batting average. Kade was at .355 and (Cader) was at .354. Then when Kade has his surgery, (Cader) ended up hitting over .390 for us. He picked up the slack. Connor (Mulhern) obviously got some big hits for us and got on fire in the playoffs too."
OCS entered the postseason with a 5-4 record in its last nine regular season games. Just before the playoffs began, Parker challenged his group to turn it up a notch. The Eagles answered the call and put it all together to go 6-0 during the 2021 postseason.
"No coach has the secret formula on how to get those kids to turn the page," Parker said. "We preach to them about there being three different seasons (non-district, district, playoffs). But it's up to the kid. We talked to them about the standard that's been set for a number of years for OCS baseball. It finally clicked. They finally said, 'We want to leave OCS raising the bar for the next group.'"
With OCS' baseball championship, the school won a total of five state championships in winter and spring sports. For the entire athletic year, OCS boasts five state titles and two runner-up trophies. Thinking about that accomplishment, Parker swelled with pride.
"Our motto is that we try to prepare youth for our time in eternity," Parker said. "We're going to do that spiritually, academically and athletically. We firmly believe that so many life lessons are taught on that field of play or on the basketball court."
Life lessons are served on the diamond at OCS. But state championships are often the end result. Parker's bunch finished the season as the first back-to-back state champions. Even through all of the success that OCS has had over the years, Parker and his players continue to raise the standard of Ouachita Christian baseball.