The No. 4 Neville Tigers were down to their final out. After surrendering a 3-0 lead in Game 1 and ultimately losing that game, 4-3, the Tigers were down 3-1 with two outs and two on in the seventh inning of Game 2. 
Grant tried to calm himself before the biggest at bat of his athletic career.
"I was just going through my head that I need to hit the ball hard," Grant said. "Wherever it goes, it goes. All I can do is hit it hard. I got it high off the handle, but it blooped over short."
Grant lined a single to left field to score Ethan Kelley and Zeb Ruddell to tie the game in the top of the seventh inning and ultimately keep the Tigers' season alive.
"It was amazing," Grant said. "I told the seniors before the game that I was doing this for them. I was not going to let this be their last game."
Wes Robinson trotted back out to the mound for the Tigers and recorded a three up, three down inning to introduce extras.
In the top of the eighth inning, LSU commit Zeb Ruddell drew a walk with the bases loaded to break the tie. Daniel Breard then stepped up and delivered a grand slam to break the game open, 8-3, for the Tigers.
"I was up 2-0, and I knew a fastball was about to come," Breard said. "He threw it low, and I like them low. I was thinking I'm going to put a barrel on this."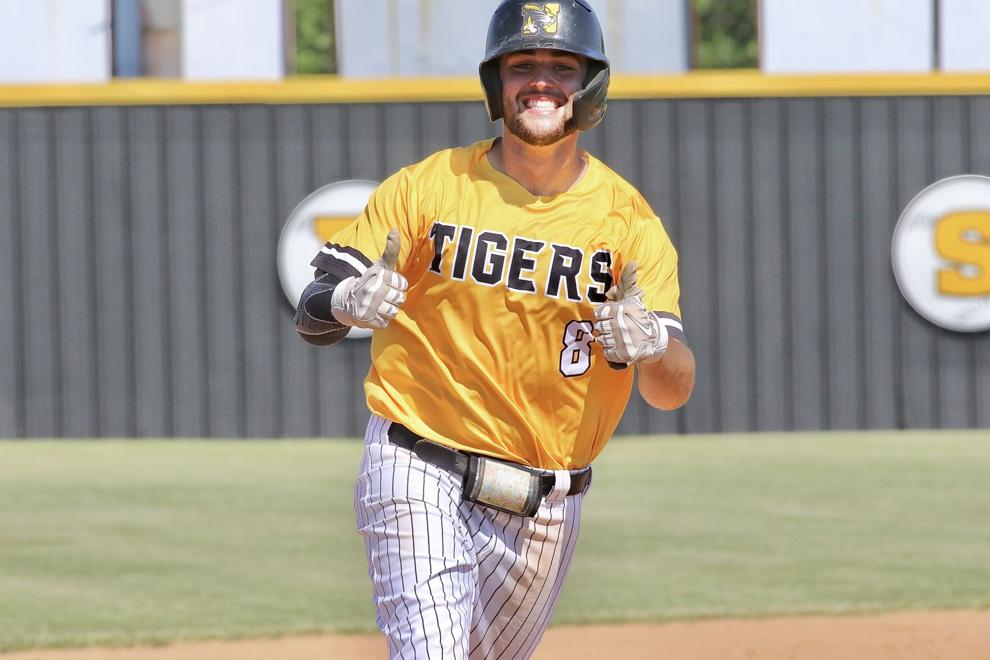 Breard was 3-for-5 with five RBIs in the victory.
Before the Tigers broke the game open, Neville head coach Paul Guerriero said the Tigers had ample opportunities to bust the game open but failed to get the big hit. That was until Grant's game-tying single.
"I had just written down on my game notes that Lake was our fifth chance for somebody to come up with a big hit with two outs," Guerriero said. "Every time a runner came up with two outs, runners in scoring position, we didn't get it. Lake was the right guy to be up there at the time."
Robinson closed the game out in the eighth to ensure a Game 3 with winner-take-all implications. He pitched all eight innings and struck out nine in the Game 2 nail-biter. 
The (22-15) Tigers wasted no time in Game 3. An 11-run first inning paced Neville to a 14-3 victory against (21-14) Lakeshore.
Lakeshore's pitching bank ran empty heading into the third game.
In fact, Lakeshore's Game 3 starter Dominick Letort did not record an out against the Tigers. Neville feasted off of Letort to load the bases and score two runs on a hit by pitch and Brayden Terra single. That prompted the Titans to make a pitching change on the mound. That didn't stop Neville's momentum in the inning.
Henton Roberts scored another run with a sacrifice fly, and then with the bases loaded, Bennett Brown launched a bases-clearing double to put the Tigers on top, 6-2.
Rudell delivered the backbreaker two batters later with a grand slam. Ruddell is hitting .588 during this postseason run.
"We were born for this," Ruddell said. "A lot of people were counting us out in the beginning of the year. We worked really hard for this. Our season came down to one last out, and we just pushed through."
Breard's solo homer that followed gave Neville an 11-2 advantage after one inning.
Lakeshore used four pitchers in the loss.
Ruddell was 3-for-4 with 5 RBIs in the victory, while Terra pitched all five innings and allowed just three earned runs on four hits and no walks.
With the win, the Tigers will make the trip to Sulphur to play in the Class 4A state tournament for the first time since 2017. Baseball became the eighth team sport to make a semifinal appearance this calendar school year for Neville.
"You have to love it," Guerriero said. "I felt like we had a chance last year if not for COVID, but this is a great year. These three seniors have stayed with it. The thing is we're getting better and better. And I don't think we're through getting better. We've still got room to improve. So hey, let's go see what we can do."