I admire grit, toughness and determination. 
But sometimes it takes a little extra. It's undeniable it takes all three of those things and more to earn a scholarship if you're a student-athlete that somehow, someway fell between the cracks of the ever-evolving recruiting world. 
Sometimes the plays that make a packed home side in Rebel Stadium leap to their feet doesn't make enough noise for neighboring colleges to hear. West Monroe fans know that well after running back Cam Wright's sensational 1,000-plus yard regular season went seemingly unnoticed at the next level. And for a long time his teammate Brooks Miller endured the same struggles. 
Is (Wright) big enough? Can (Miller) avoid injuries? These were the questions these young high school athletes. who are easily good enough to play at the next level I might add, had to answer. 
Before most athletes ever get to fully check that box, if they ever do, they have to watch others who might not be as successful as them at the high school level garner star ratings and offers they could only dream of. 
"That could be frustrating," Miller said. "That's something (Cam and I) would talk about in the locker room. We knew something would eventually happen, though. I always thought it was because of my shoulder injuries." 
As a sophomore, West Monroe's 2020 safety/linebacker burst onto the scene by stepping in front of a pass in the Bayou Jamb 2017 against Neville. Miller picked off a pass and shook several Neville players as he hit his stride down the field. I remember that play like it was yesterday because I was on the sideline. I turned to a player next to me and said, 'Um, who was that?" I never forgot who wore No. 4 after that, but then the injuries came. And Miller played through them. 
The talented safety tore his left labrum against John Ehret in the first game of the season before tearing his right one against Noxubee County (Miss.) a few weeks later. Miller played the entire season with harnesses and had his shoulders repaired at the end of the season. 
Miller avoided more damage last season as a junior. 
"I had no problems at all actually," Miller said. 
After recording seven interceptions as a junior, Miller's career tally at West Monroe climbed to 13 picks. And West Monroe head coach Jerry Arledge will be the first to tell you he isn't done yet. 
But after performances like a two-interception game against opponents like Barbe and Noxubee County, Miller's offer sheet remained blank. So Miller dialed up the aggression again in the offseason by attending as many camps as possible. 
Give credit to ULM. The Warhawks were the first to offer back in February with Grambling not too far behind. 
Miller attended Baylor's camp on June 9, and that's when his luck really turned around. Miller ran a 4.46 40-yard dash and what he called a decent pro shuttle (4.22).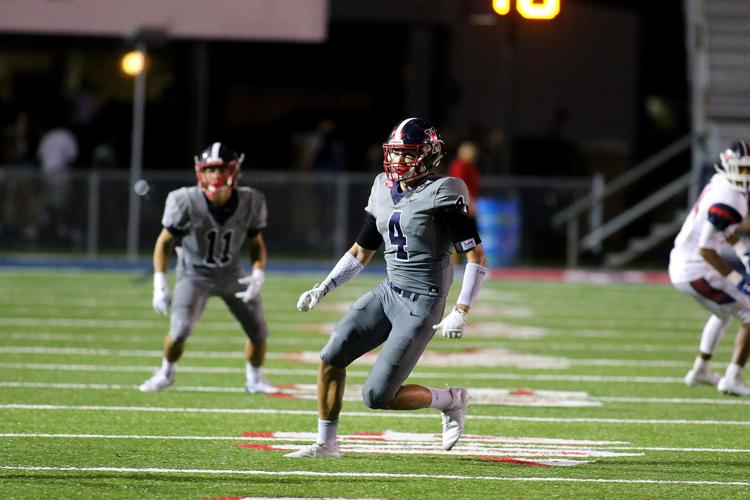 I imagine Baylor coaches having a similar reaction that I had the first time they saw the 6'1", 195-pound safety run.  
"Look at the speed on this guy. Imagine if we get a few more pounds on him," said Baylor coaches watching, probably. 
Baylor offered Miller two days later as a linebacker, which is a position Miller played in middle school. He liked the idea of switching to an outside linebacker at the next level. 
"I like to be down in the box and hit some offensive linemen," he said. 
Before committing to play at Baylor, Miller visited TCU's camp and tore it up. Recruiting publications like 247 Sports raved about his performance, as Miller proved that 40-time was no fluke with a 4.48 and a 4.04 shuttle. TCU coaches told Miller he was a scholarship player but the Horned Frogs did not have a scholarship to give. 
After revisiting Baylor's campus, Miller decided Baylor was the school for him, giving his verbal pledge to the Bears last Monday. 
Not every story like Miller's works out. Great high school players who lack one or two measurables often never get a shot on the big stage. 
Miller's offer from Baylor is a win for all those players who indescribably go unnoticed in the recruiting game. I think Miller's shoulders are strong enough to carry the flag for "the little guys."