The second-ever Monday Night Football Game in 1970 just so happened to be one of the most memorable performances of Johnny Robinson's career.
Iconic commentators Keith Jackson, Howard Cosell and Don Meredith marveled at what they saw. Robinson, who was a member of the 1960s All-Decade Team, already had two interceptions before picking up a fumble and sprinting 48 yards for another Kansas City Chief score.  
"I don't know how he knows to get in the right place all of the time, but he sure does," said Meredith on a night where Robinson intercepted three passes and recovered the fumble.
On that historic night, the Chiefs went on to beat the Baltimore Colts, 44-24, though Robinson fans might've guessed the outcome considering the Chiefs were 35-1-1 when Robinson recorded an interception.
With the Dallas Texans/Kansas City Chiefs, Robinson recorded 57 interceptions, found the end zone 18 times and won four championships (three AFL Championships and Super Bowl IV). That Super Bowl victory, by the way, came after he missed an entire week of practice with three broken ribs suffered against the Oakland Raiders the week prior. Robinson was so tough he got a shot for the pain and sat next to a doctor from New Orleans' Ochsner Health Center between series. The team wanted resources available in case of a punctured lung. Robinson's devotion to his team is unlike anything he's reciprocated from the sport.
The seven-time All-Pro turns 80 in September, and somehow the Chiefs' legendary safety still awaits his long overdue entry into the Pro Football Hall of Fame.
Inside Robinson's Monroe home is a painting of the 1960s All-Decade Team hanging on the wall of his trophy room. It's his prized possession that features the Pro Football Hall of Fame's combined AFL and NFL All-Decade Teams. It features names like Gale Sayers, Bart Starr and Jim Brown. Robinson is the only player on the painting that has not been inducted into the Hall of Fame. Jerry Kramer was the latest member of said team to get inducted in 2018, and Robinson is hopeful he's on deck.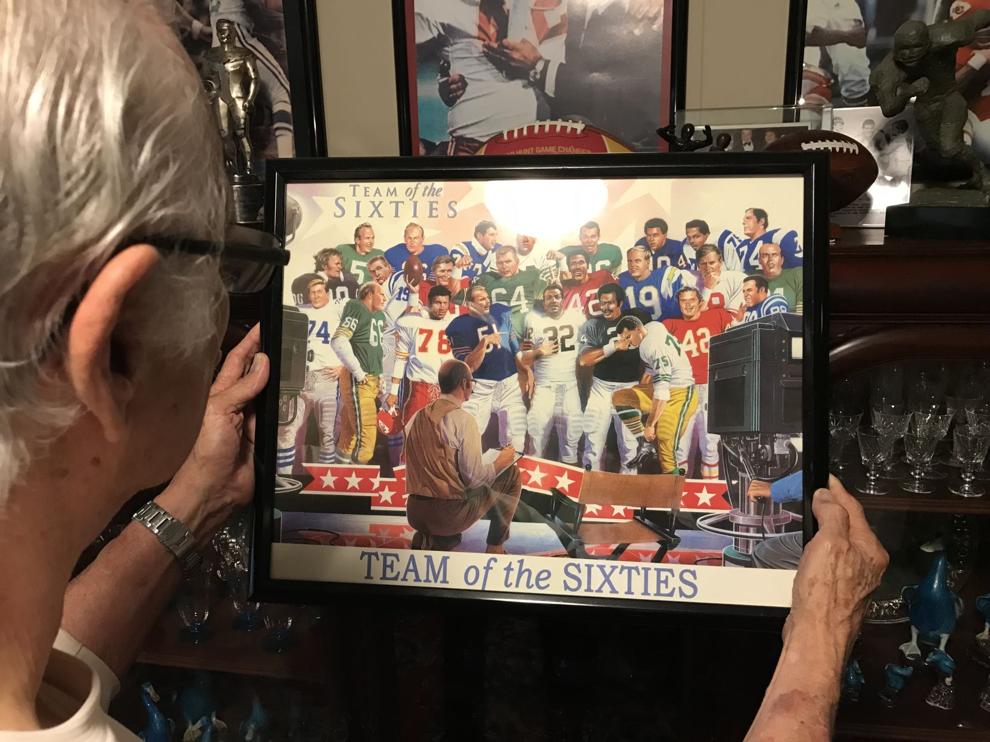 There has been some positive momentum as of late. AFL historian Todd Tobias has gathered signatures since February for a petition to get Robinson alongside those unforgettable names. And former players, football historians and football analysts alike have been more outspoken than ever before.
"Simply put, Johnny Robinson is one of the greatest safeties that I ever faced," said Dallas Cowboy and 1978 Pro Football Hall of Fame inductee Lance Alworth. "I can't think of any that I've seen in the last 50 years since that have been better."
NFL.com senior analyst and former vice president of player personnel for the Dallas Cowboys Gil Brandt stated, "I believe him to be one of the 100 best football players ever, regardless of position."
Max Fugler, who played with Robinson on the 1958 National Champion LSU Tigers, said Robinson was the best athlete on the team. There was another guy named Billy Cannon on that squad too. And speaking of LSU's lone Heisman Trophy winner, his fabled Halloween Run — the most indelible memory in school history — was seen by mostly everyone in the stadium except Robinson.
"I didn't get to see the play because I was on the ground," recalled Robinson who sprung a block for Cannon.
Not only did Robinson have such great success in football, but he also earned All-SEC recognition as a tennis player, was named an all-state basketball player and was even drafted out of high school as a catcher by the Cincinnati Reds. Back in the day, he was what Fugler called, "a super athlete."
The only accolade Robinson hasn't captured is immortality in Canton, Ohio. Perhaps that won't elude Robinson much longer.
The process begins again in early August. The Pro Football Hall of Fame's 48-person selection committee will narrow down a list of 100 senior nominations to 15 before debating the names and deciding on the 2019 member. Only one member from the senior pool (careers ending 25 or more years ago) will enter the hall of fame.
"It's a little bit frustrating," Robinson said. "The main thing is they have a lot of guys that should be in that are not. Be honest with you, I haven't seen anybody that's gone in on the senior list that shouldn't be there. But they don't select but one a year. Gosh almighty, when you think of the players left off…"
There's another way of looking at Robinson's exclusion. Robinson's stepson, Bob Thompson, looked at his omission as a "God thing." Had Robinson entered the hall of fame shortly after his retirement in 1972, the Johnny Robinson Boys Home in Monroe might've never been.  
"I think God wanted that boys home," Thompson explained. "The demands are so great once you get into the hall of fame. He'd have speaking engagements all over, and he was a prolific speaker. Before his stroke, he was going to speak at the hall of fame actually. I just don't think he would've settled down in the community."
Before Robinson showed off his resilience by surviving a severe stroke, a quadruple heart bypass, thyroid cancer and non-Hodgkin lymphoma, he was a recent retiree looking for work. The obvious post-retirement career involved football. Robinson became a scout and made his way to Jacksonville for a new franchise team in the World Football League before making his way back to Kansas City to be a scout with his long-time coach Hank Stram. Robinson and Stram were tight. After all, it was Stram who put Robinson on defense in the first place, and the former Kansas City Chief made Stram look like a genius by leading the league in interceptions in 1966 and 1970 (10 interceptions in each season).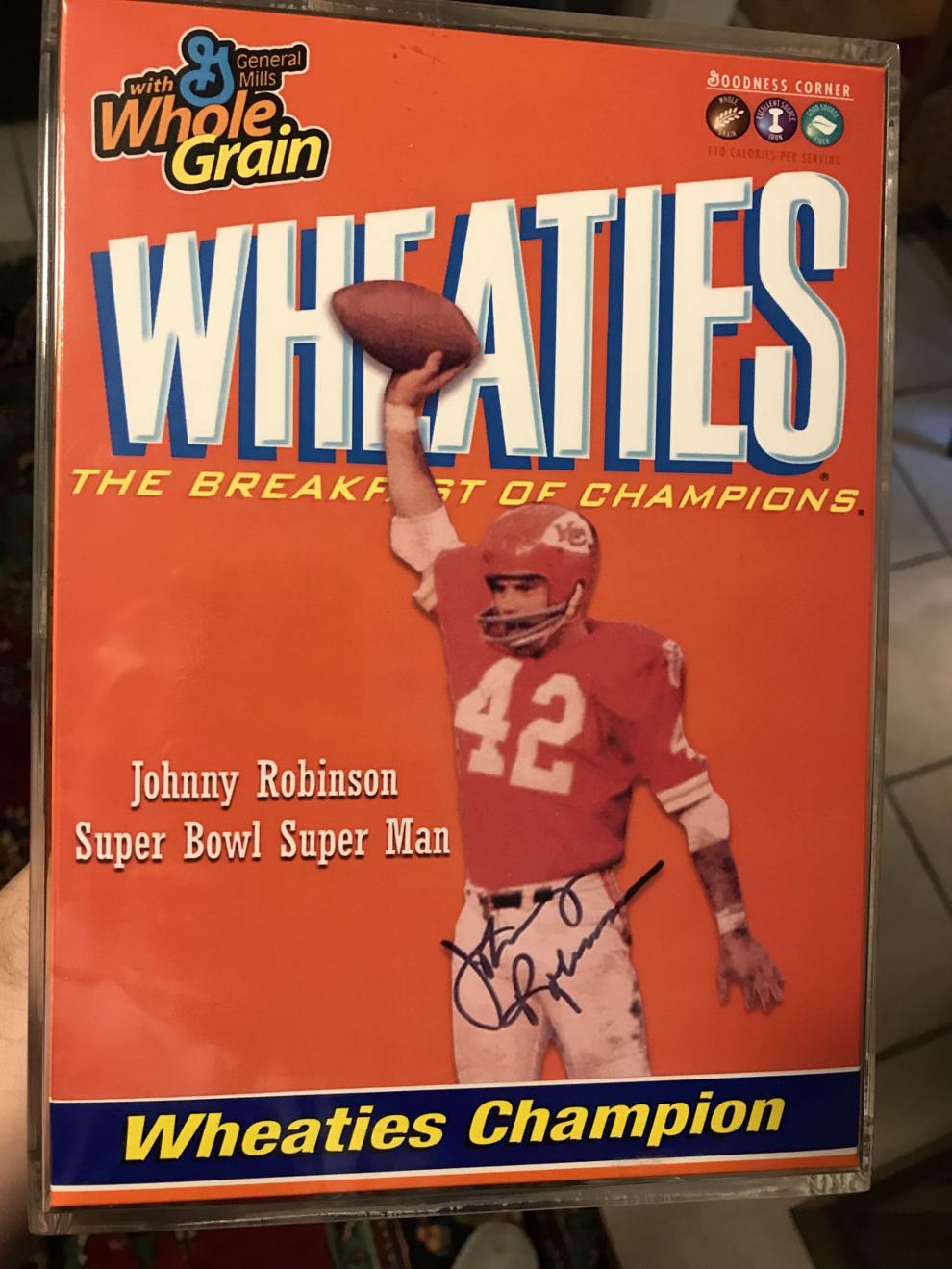 But like most coaches, Stram overstayed his welcome. He was fired in 1974, which resulted in Robinson making his way to Monroe to coach at Northeast (ULM). After he got settled into the community, Robinson became an associate pastor at Bethany Full Gospel around 1976, where he received a call from the police chief about becoming a chaplain for the police department. There, Robinson worked with police officers like his soon-to-be stepson, Thompson.
Robinson gave his time to the community and ministered to the less fortunate. But it was the actions committed against one 10-year-old boy that convicted Robinson to give the rest of his life to the at-risk youth. At the Swanson Correctional Center for Youth, which went by the name "LTI" back then, Robinson discovered the boy was sexually abused.
"He was in a dormitory with 30 kids, and he was placed with older boys," Robinson said. "When I left, I saw a building on South Grand (Street) for sell, called the realtor and that was it. That was the deciding factor."
The Johnny Robinson's Boys Home opened its doors to the at-risk youth in 1980 and has been open ever since.  The enterprise now has 30 full-time employees and houses 30 adolescent males.
"His path was football, and it turned this way," Thompson said. "It literally just went in the opposite direction, and that's been his life ever since."
With his 1970 Super Bowl ring on his left hand and his 1958 National Championship ring on his right, Robinson sat in his dining room, reminiscing about the glory days of football. He had stories from the '60s when men were men and could knock receivers off of their routes beyond five yards down the field. With rosters of approximately 30 players, teammates didn't have much of an option — they had to play hurt. And they took pride in it too. That said, one of Robinson's proudest achievements was keeping all of his teeth because most of his teammates were less fortunate. The smile stayed in tact and the knees avoided career-ending injuries in a 12-year professional career.
Though he hasn't been granted the title "Pro Football Hall of Famer," he has gotten to hear from many contemporaries who swear he's deserving of such.
The family is anticipating a quote from Joe Namath that will be sent to voters on behalf of Robinson. Namath, like Robinson, dealt with AFL/NFL politics decades ago, and it actually took the former New York Jet quarterback more than three years to get voted into the hall.
Despite the omission, Robinson remains optimistic. The 79-year-old is still in awe when he sees former greats talk about him, but his impact spans beyond football. Whether it was millions on television half a century ago or thousands of youth over the last four decades, Robinson's impact on this world is undeniable.
For Thompson, it's hard not to get emotional about a man he rooted for from afar and prayed with face-to-face. Now all he wants is football justice, for the sport to reciprocate the love Robinson gave so many years ago.
"I love him not for the football," Thompson said. "He was my idol growing up. I never dreamed he would one day be my stepdad. But God used him for me. And God has used him for this community. I'm praying it's finally time to get him into the hall of fame."