The Ouachita Christian girls basketball program needed an awakening.  
Four years ago, the Lady Eagles struggled to win five games during a season where members of the team rarely showed up for practice.
OCS underwent a revival when Stan Humphries entered the picture as the new head coach that following year.
The Lady Eagles went 16-13 during the 2017-18 season, and then built on that success with a 27-9 record. The Lady Eagles broke barriers last season by beating a 26-win Cedar Creek team on the road in the playoffs to earn a semifinal berth in Alexandria.
In Humphries' third season as coach, the Lady Eagles are on a quest to perfection.
Going from two wins to a 22-0 start in a four-year span is borderline comical for senior players. A team opponents took lightly four years ago is now in the driver seat to claim the top seed in Division IV.
"Over time we felt teams go from, 'Oh we're about to whoop them' to 'Oh, we're about to get whooped,'" senior Andi Grace Melton said. 
The goal for OCS this season is to win a state championship. And there isn't any unspoken rules preventing players from talking titles. Actually, it's quite the opposite.
"There's nothing wrong with talking about it," Humphries said. "Because if you're not talking about it, you're not shooting for it." 
But you don't take over a struggling program expecting immediate state championship results. You have to put the work in. That started with actually building something people wanted to be a part of.
After fielding just 11 girls on Humphries' first basketball team and having to play a slow tempo style because of the lack of depth, OCS started to attract more students to a program that needed more bodies.
Senior Allie Rae Hamby was cheering at basketball games her sophomore year when Humphries approached her and asked her to play.
"Coach Stan talked to me and said, 'You could be a part of our team' because I was tall," Hamby said. "I told him, 'I'll see, but I don't know what I'm doing.' He just said, 'That's why we have coaches to help you.' I was nervous about joining my junior year, but I was immediately part of the family. I was in the sisterhood. It was a good choice."
The numbers grew over the years and have doubled in three years. This season OCS has 22 players and more than half of them contribute in varsity games.
That allowed OCS to undergo an extreme makeover with its style. The girls got in shape and pressed opponents to force mistakes they capitalized on. It's what allowed the Lady Eagles to make a Top 28 berth last season.
"We like to run people to death," said junior Conleigh Laseter who leads the team with 11.3 points per game. "We can sub five for five for five if we need to because everybody on this team can press."
Sparking interest wasn't designed just for OCS students who wanted to give basketball a try. The change in culture had a larger impact around the school. Suddenly hundreds of people started showing up to watch the OCS girls basketball team play.
"Before they would just come for the last few minutes of the girls game to get to the boys game," senior Lauren Shanas said.
Junior Emery Wirtz, who has averaged 10.2 points per game and six rebounds per contest, said she now hears students at the school asking around about what time the girls games start.
"Our freshmen year, all they knew was OCS basketball is terrible," Wirtz said. "Last year they started to come when we started to make our run."
You don't reach the pinnacle of the NFL without putting in the work. Former Northeast quarterback Humphries, who led the San Diego Chargers to Super Bowl XXIX, knows what it takes to build a championship-level team.
Whether it's drawing up game plans, organizing plays on Hudl for his girls to watch on the app or making a three-hour trip one random night to scout a future playoff opponent, Humphries is willing to put in the time to be successful.
One of the many ways he's flipped OCS' fortune is through scouting reports.
"I try to relay all of my years of scouting reports in football to the team," Humphries said. "I bring that to the basketball court. We talk about different things people do. They know when their coach calls out something to his team, they know what that means when they're on the floor."
And that has given his team a supreme level of confidence.
"Instead of going into the game nervous, you go into it confidently because you already know what people want to do against you," Melton said.
Hanging in Humphries office is a yellow sheet of legal pad paper that reads the following:
"10 Things that require ZERO talent!
Being on time
Work ethic.
Effort.
Body language.
Energy.
Attitude.
Passion.
Being coachable.
Doing extra
Body language and attitude are two building blocks that have also changed OCS' culture. Humphries recalled a game last season where he could sense the other team was getting tired just before halftime. At halftime, Humphries had his team jog off the court and head to the locker room. With a few minutes to spare before the second half started, his team jogged back onto the playing surface when Humphries noticed the other team was still sitting on the bench.
"They weren't warming up or anything," Humphries said. "I looked up at the clock and there was a minute left and my girls were ready to go."
Humphries told his team to go onto the court a minute early and get into their defensive stances. OCS' body language said it all. The Lady Eagles' opponent was beat before they ever took the floor for the second half.
Hamby recalled another time when she saw an opponent run to their coach, gasping for air and asking to come out of the game.
"She said, 'I need out. I need a sub.' And the coach was just like, 'I need a sub too,'" Hamby said.
When Humphries and the Chargers made it to the Super Bowl, they had already achieved the ultimate goal in their mind. The Chargers pulled off a historic upset in the AFC Championship Game by taking down the mighty Pittsburgh Steelers. The Chargers celebrated a monumental moment for the franchise and could not rise to the occasion in a 49-26 Super Bowl XXIX loss to the San Francisco 49ers.
"That was one of our biggest faults," Humphries said. "We were young and were like, 'We made it!' Well no, you just got your butts beat in the Super Bowl because you thought you made it and didn't realize you have another game. It's hard to break that because you're excited and building to that point. You relax."
Making it to the state tournament had a similar effect on OCS last season. After upsetting Cedar Creek by one-point in the semifinals after losing to the Lady Cougars twice in the regular season, it took the Lady Eagles a couple of quarters to play their brand of basketball against a Lafayette Christian Academy team that went on to win their third consecutive Div. IV Championship.
Humphries challenged his team like never before in the offseason that followed. After taking on 5A competition in summer basketball, Humphries set up matchups against bigger schools in West Monroe's 2019 Sidney Smith Invitational before taking on stout district competitors Delhi and Cedar Creek.
"This year we've had to work harder because we've had the target on our back ever since last year," Laseter said. "(Humphries) told us he had to push us more because he expects more out of us now. It's not who we play. It's how we play."
OCS was pushed in contests against Class 4A's Booker T. Washington (Shreveport) and Class 3A's Iota in West Monroe's tournament. The Lady Eagles trailed Iota, 36-35, with eight seconds remaining in the contest. Sophomore guard Jayden Ellerman took it up the court and found an open Avery Hopkins underneath the basket for the game-winning field goal.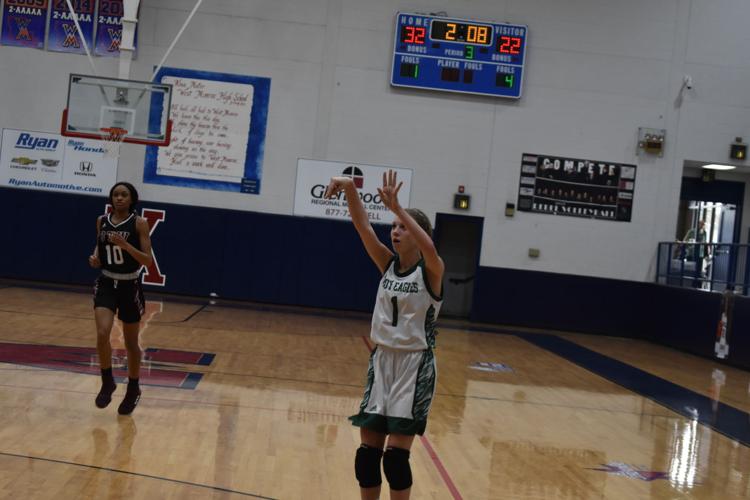 "I was not expecting that pass," said Hopkins, a junior who has averaged 11.2 points per contest this season. "I thought she was going to take it all the way. Luckily, she made that pass and I was there."
The Lady Eagles have started district play 3-0 after beating defending Class 1A State Champions Delhi, arch rival Cedar Creek and Delta Charter. OCS continues to overcome the obstacles in its way, and the Lady Eagles continue to get better while they do it.
"To play Delhi in our first district game and win by 10 points and beat Cedar Creek after we trailed for most of that game, it's one of those deals where I'm just happy we continue to keep pushing forward to our ultimate goal," Humphries said. "We want to keep building. We don't want to get to a plateau at the middle of the season and start trending down."