Two years ago, Chris Fuller was playing soccer recreationally in town, while the River Oaks soccer team was enduring yet another losing season.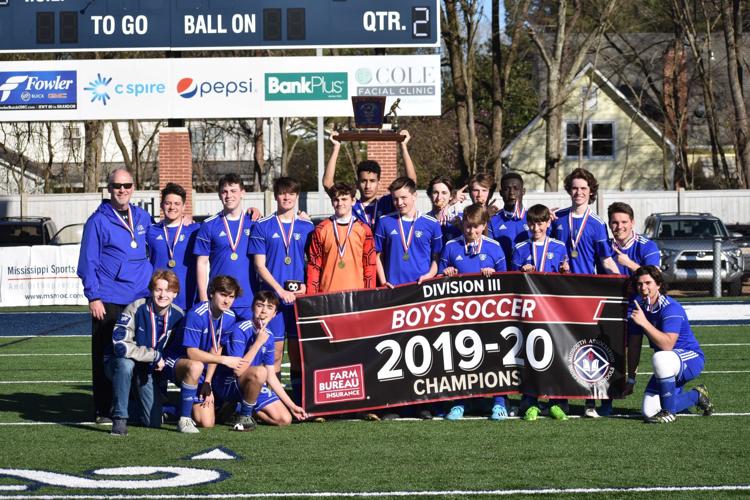 A lot can happen in two years. By Saturday's end, Fuller raised a state championship trophy with his Mustangs after a 4-1 victory against Laurel Christian in the MAIS Division III State Championship Game.
What a ride it's been for Fuller and his Mustangs.
"The initial feeling was relief because I haven't been sleeping the last week when we were in the playoffs," said Fuller, who won national championships at West Virginia Wesleyan as a player. "It's hard to really describe. This is the first time I've coached something like this. Last year we went 7-6 and had River Oaks' first winning season in like 10 years. I knew they could do it this year."
Daniel Saye led the Mustangs with two goals in the victory. Miguel Gonzalez and Taylor McHugh also scored in River Oaks' state title victory.
One of the key components for Saturday's win was the way the Mustangs handled the elements. And Fuller had Neville coaches Walt Smith and David Sorrell, along with Ouachita boys coach Nick Artigue, to thank for it.
"Neville let us practice in the rain on turf during the playoffs, and Ouachita allowed us to play games on their turf," Fuller said. "So when we got to play the state championship in Jackson, we were used to playing on turf."
River Oaks finished with a 12-1 record, and Fuller couldn't be any prouder of his group for putting it all together in the end.
"It was awesome," Fuller said. "To see how they matured and played soccer, actually becoming structured after kicking the ball around a few hours and trusting one another on the field, was great. To have your entire team come back is rare. It just isn't normal. We had no seniors last year and had six on this year's team. "