The opening of Bussey Brake Reservoir couldn't have gone any better for Sterlington native Brandon Johnston.
The local 43-year-old, who grew up fishing in the newly renovated lake as a child with his father, Tommy "Bo" Johnston, reeled in a 10.84-pound bass Sunday morning.
Brandon Johnston's monster catch was the first reported double-digit largemouth since Bussey reopened last week. Johnston, who was with his son Landon, 12, and fishing buddy Eric Whitlock, set the hook and shortly after came to the realization he had the biggest catch of his life.
"I knew she was a good fish," Johnston said. "I didn't think she was 10-plus. I had never even seen a 10-plus. I told my son to get the net. He gets up and I ring (the fish) up. I was pulling the fish up and (Landon) missed him with the net. I kept it tight and he secured the fish with the net on our second attempt. We started freaking out. My buddy and my son, their eyes got this big." 
Johnston felt a tug on his Monster Zoom worm (Junebug Red) near a willow bush, and the rest was history.  
Like father, like son. Two days after Brandon grabbed headlines with his double-digit bass, Landon gave his pops a run for his money with a 9.2-pound bass.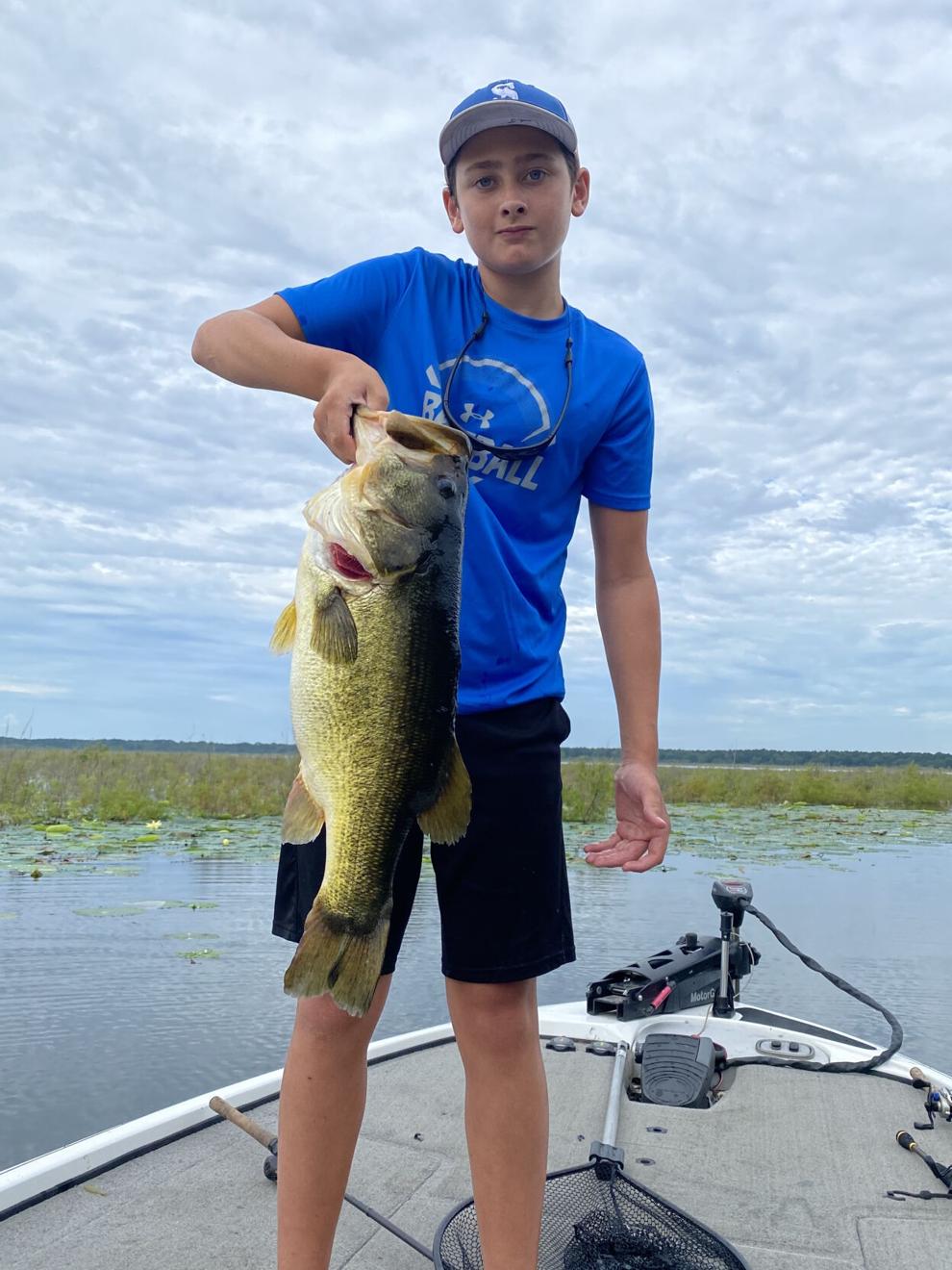 "He asked me multiple times Sunday while we were fishing, 'Daddy, if you hang another 10, can I reel it in?' I said, "Nah, you have to reel in your own fish. You're old enough,'" Brandon recalled. "When he caught (the 9-pound bass), I looked at it and said that's maybe a nine-pound fish. I knew the one I caught was a little longer. But I definitely knew it was bigger than an eight. I caught three eight-pounders in my life. Until Sunday, the biggest I ever caught was an 8.6."
Brandon said that moment surpassed catching his largemouth on Sunday. But the Johnston family wasn't the only ones making memories this past week. As of Wednesday afternoon, Johnston said he heard 500-700 fish had been caught at Bussey.
"It's been awesome," Brandon said. "You've got fish that's been in there for three to four years that have never been caught. Fish that have never seen a bait before."
Last week was monumental to say the least for local fishermen. In fact, it was a week many local fishermen were eagerly anticipating, since the International Paper donated the 2,200-acre freshwater reservoir in 2012.
With every passing year, Johnston, like many others, doubted if the Louisiana Department of Wildlife and Fisheries was ever going to complete the renovation project. And when it was time to fish, Johnston anticipated fishing with his father again. However, due to his father being exposed to someone who tested positive for COVID-19, Bo decided to be cautious and wait a few more days before hitting the lakes with his family.
Because of that, he missed his son's big catch, but what might've hurt even more was passing up another fishing opportunity the following Tuesday. That's when Landon reeled in his big bass.
"Those days don't come around often," Brandon said. "I tried to get him to come out (Tuesday) and when I called him and told him (about Landon), I said, 'You're going to kick yourself in the butt for not going with me.' He was super excited. Ain't no telling how many people he's called about both (of our fish)."
Brandon said they took the measurements and filmed a video of Landon's fish before releasing it back in the lake.
It's been a historic week of fishing for the Johnston family, no doubt. Imagine what will fill the boat when three generations of Johnston's are back on the water together.