Long at last, Johnny Robinson will receive the glory owed to a legendary safety that once played for one of the greatest defenses in the history of professional football. 
The Pro Football Hall of Fame Selection Committee announced last February the Kansas City Chiefs legend will be enshrined as the senior nominee of the Hall of Fame's Class of 2019. Robinson will enter the Pro Football Hall of Fame on Aug. 3. 
It took approximately 10 minutes for a 48-person selection committee to approve the senior nomination, according to NFL Hall of Fame voter Rick Gosselin. As it turns out, Robinson's vote was one of the quickest of the 2019 class. But don't let that fool you — it took decades for Robinson to get the invite to wear that coveted gold jacket. 
"I drew a list of 100 names that needed to be discussed, that somehow, someway slipped through the cracks," said Gosselin, who became the Dallas rep on the Hall of Fame Selection Committee in 2004. "Two guys were glaring omissions. Jerry Kramer and Johnny Robinson. After we got Kramer in, I thought Johnny was the best player that absolutely needed to get in." 
Bob Thompson became borderline obsessed. 
In Thompson's mind, the clock was ticking, and Thompson wanted his stepfather in the hall sooner rather than later. 
Inside Robinson's Monroe home is a painting of the 1960s All-Decade Team hanging on the wall of his trophy room. It's his prized possession that features the Pro Football Hall of Fame's combined AFL and NFL All-Decade Teams. It features names like Gale Sayers, Bart Starr and Jim Brown. Gosselin called it the golden era of football, and everyone in that painting, including Robinson, deserved the ultimate honor. 
"I've been out of football for 47 years," Robinson said. "I'll be 80 years old when I enter the hall of fame. A lot of us are dying. But I get a chance to see some guys that I played against. That's going to be a thrill for me." 
In reality, that was just one of many reasons Thompson wanted to see Robinson enter the hall of fame. Another reason was to witness Robinson immortalized with the greatest of all time, so others could view Robinson how Thompson always did. 
After all, before Robinson became Thompson's stepfather, Thompson idolized Robinson as he and other family members would gather around the radio on Saturday nights to listen to LSU Tiger football. Thompson followed Robinson's career from LSU to Kansas City closely and looked up to him the way many today view LeBron James and other famous professional athletes. Thompson feared future generations wouldn't see Robinson as the all-time great he is. 
"For instance, my daughter Jordan always viewed him as pawpaw," Thompson said. "She knew he played football, but she's 21 years old now and it's starting to click in just how great he is. When you see all of these former greats talk about (Robinson) like the legend he is, it's just different." 
But year after year, Thompson hoped. And year after year, he, along with Robinson, waited to no avail.  
So Thompson took up becoming Robinson's manager, wrote countless letters to hall of fame voters and continued to bring recognition to Robinson's glaring omission in the hall of fame. 
Robinson's case only grew stronger as the years went along, and once Gosselin helped make it a mission of the senior committee to induct legendary players that fell through the cracks, momentum started to build for Robinson. 
Thompson knew the tide had turned after the announcement of the 2018 Pro Football Hall of Fame Class. Kramer was the senior nomination, and Thompson saw it as an absolute win. 
"I grabbed (Robinson) and walked him back to that 1960s picture and pointed to it," Thompson said. "I said, 'Now that Kramer is in, next year is yours. He just opened the door for you.'" 
Thompson was right. Gosselin assured Thompson and Robinson that after Kramer's induction he would not support any other senior nominee but Robinson. 
"Obviously he was worthy," Thompson said. "I can't tell you what I felt. What would you feel like if it was something you worked on for decades?" 
Robinson was overcome with emotion when he received word 2019 was, in fact, his year. He also had a little fun with it.  
"A lot of my cards went up in value… "
Robinson's club was 35-3 in games the all-star safety recorded an interception. Consider that one of many examples as to why Robinson deserves hall of fame recognition with five other Kansas City teammates from that time. After all, we're talking about one of the greatest defenses of all time. 
It's not hyperbolic to say the 1969 Chiefs were an all-time great defense either. The Super Bowl IV Champions are the only championship defense of the Super Bowl era to lead the league across the board in all four major statistical categories: run, pass, scoring and total defense. 
The '69 Chiefs allowed seven points or fewer in seven games that season, and as Gosselin pointed out in an article, the Chiefs held 13 of its 17 opponents to one touchdown or fewer. 
The Chiefs were 12-point underdogs against the NFL's highest scoring team, the Minnesota Vikings, in Super Bowl IV — the game Robinson played in with three broken ribs. The Chiefs went on to beat the Vikings 23-7. 
Robinson intercepted 57 passes in his career, as he posted two 10-interception seasons in his career with Kansas City. He led the league in interceptions in both of those seasons. Not bad for a football player that started out as a running back. 
"He's one of two football players in the hall of fame that played both offense and defense," Gosselin said. "He started out as a running back and had six touchdowns before Kansas City switched him over to safety."
What might be even crazier about that interception number is Robinson wasn't known for being just a ball hawk. He was known as a hard-hitting safety. 
"Lance Alworth (the first San Diego Charger inducted into the hall of fame), the greatest receiver of that generation, wrote (Robinson) a card that basically said he didn't like going over the middle against him," Thompson said. "He once said he had to prepare himself mentally and physically to play against (Robinson)." 
Robinson said that was the greatest compliment. 
The Ultimate Gratification 
Before making his way to Canton for the opportunity of a lifetime, Robinson has made his rounds as a future hall of famer. One of those trips Robinson made was as a guest of Louisiana Sports Hall of Fame inductee Max Fugler. But throughout that June weekend, it was Robinson who got the royal treatment.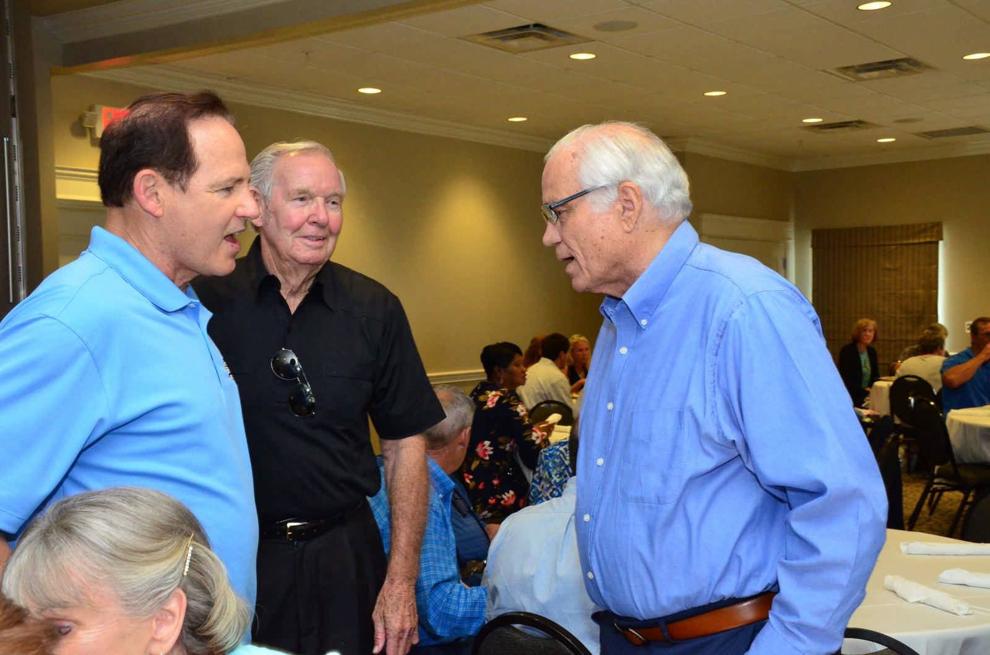 Actually, organizers of the event wanted to do a Q&A session with Robinson during one of the lunches as a way to honor him. Unfortunately, Robinson's health prevented him from doing so. 
Robinson, who had to pre-tape his hall of fame induction interview for the event in Canton, struggles at times with his speech after surviving a severe stroke, quadruple heart bypass, thyroid cancer and non-Hodgkin lymphoma. 
That didn't stop legends of all generations from paying their respect. And even Peyton Manning singled out Robinson during his induction speech at the event. 
"While we were having dinner, Manning walked in," Thompson said. "I told my wife to get her phone out and film it because I thought he would come over. Some gentlemen were speaking to him, and I heard (Manning) say, 'I need to go over and see Mr. Johnny and honor him.' And (Les) Miles did the same thing. That's the great ones when they can humble themselves and recognize other's greatness." 
It's been a long time coming for Robinson. The letters, the phone calls and the public functions have all been the icing on the cake. The ultimate gratification, though, is Robinson's legacy will be protected in Canton for the rest of time. 
"I'm in the LSU Hall of Fame, Kansas City Hall of Fame, Louisiana Sports Hall of Fame and Missouri Hall of Fame," Robinson said. "I've gotten plenty of publicity, but the Pro Football Hall of Fame is the pinnacle of success. I can tell you that I was just thrilled to be selected." 
Some might argue his legacy was long secured decades ago, and it wasn't just for his accomplishments on the gridiron. 
The Johnny Robinson's Boys Home opened its doors to the at-risk youth in Monroe in 1980 and has been open ever since.  The enterprise now has 30 full-time employees and houses 30 adolescent males.
"His path was football, and it turned this way," Thompson said. "It literally just went in the opposite direction, and that's been his life ever since."