The West Monroe Rebels are partying like its 1999.
For the first time in two decades, the West Monroe baseball team are state champions, and late heroics were once again the central storyline for this 2022 baseball team.
Brought to tears after the No. 2 Rebels defeated No. 8 St. Amant, 9-6, head coach Wade Simoneaux praised his team's ability to play for one another in one of the most memorable seasons he's ever coached.
"We've been here a lot… And it's hard to win it," said Simoneaux with his eyes turning red as he took a deep breath. "I know we've had better physical teams here and didn't win it, but this team came together and found a way. It means a lot to me. I don't know how many years I have left. I have some (American Legion) state titles back when, but I've never won a high school title. This is my fifth time to play for a state championship. I've played in three here (at West Monroe), and never won it. But I didn't win this one. This team won it."
West Monroe's win against St. Amant marked the second time in school history the Rebels are state champions in baseball. 
West Monroe did it once. Why not twice?
After Trey Hawsey delivered the three-run walk-off homer to beat Dutchtown in the Class 5A semifinals Thursday, West Monroe rallied from a 6-0 deficit Saturday to win the title. In fact, the Rebels didn't take their first lead until the sixth inning.
With runners on first and second with one out in the sixth inning, the lineup turned over to SEC commits John Pearson (LSU) and Hayden Federico (Ole Miss). Trailing 6-5, this was the Rebels chance. This was the moment to stage another epic comeback, and West Monroe delivered on the opportunity. 
First, Pearson walked to load the bases for Federico.
"John trusted Fed and Trey (Hawsey). It was a great at bat," Simoneaux said. "This game is all about trust."
Then came Federico to the plate. The Ole Miss commit has made a knack in West Monroe's lineup as a switch hitter, but facing a right-handed pitcher, Federico decided to bat right-handed for comfort. With the bases juiced, Federico delivered the death blow to St. Amant's championship hopes with a bases-clearing triple. Just like that the Rebels led 8-6.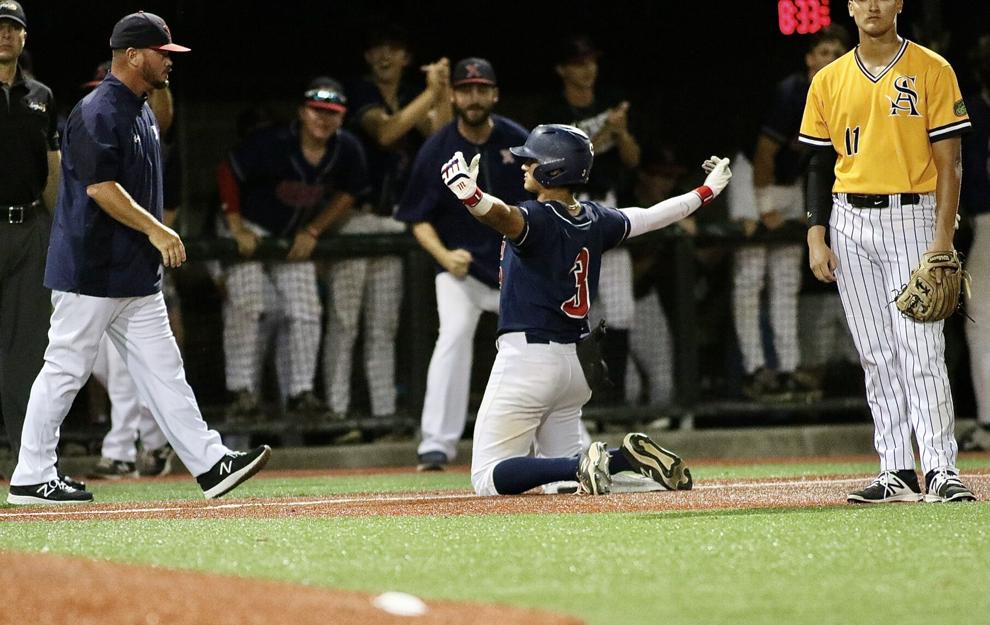 "Like I've told you before, it's so much bigger than us. The seniors, the fans, this town just deserves it," Federico said. "After that hit, we just had all the momentum and it felt right."
An error in the outfield after allowed Federico to score the insurance run, but on a night like this, West Monroe didn't need it... 
Seth Edwards was the starter, Jack Cowan was on call and Brennan Eager was the closer. They might not have known it going in, but that was in the mind of Simoneaux hours before the game.
Eager, who gave up four earned runs on three hits and one walk in one inning pitched against Dutchtown Thursday, had 48 hours to think about the worst outing of his career. His number was called upon in the third inning with West Monroe trailing, 6-0, and he was ready.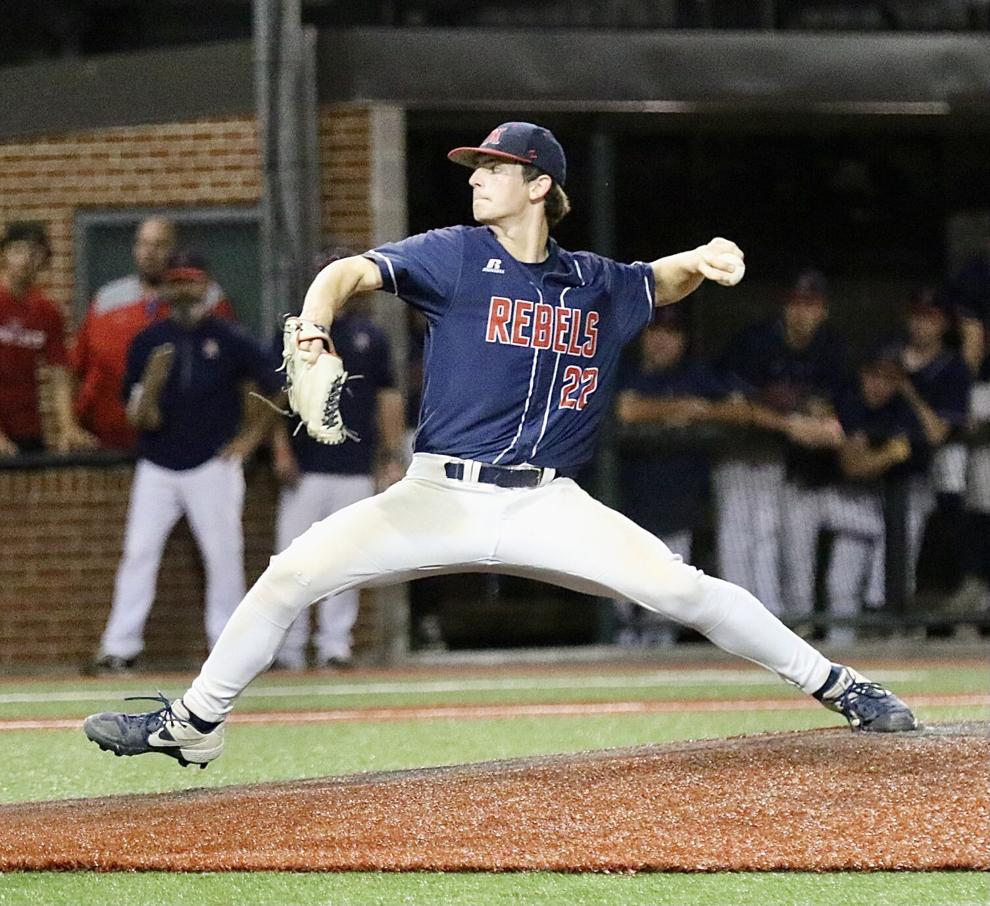 "When I was warming up, I was nervous that would happen again," Eager said. "But after I threw my first warm-up pitch, I knew I was good to go. I had so much confidence."
Eager allowed no runs on one hit and no walks with six strikeouts through 4.2 innings pitched. Simoneaux didn't even have to go to his closer Hawsey, which didn't surprise him after seeing Eager 12 hours prior.
"I knew it before the game started that he was going to close it out," Simoneaux said. "He got punched in the mouth on Thursday. He's the kid that's up at 6 a.m. in the lobby of the hotel with his Bible, so when I'm sitting here thanking God for this opportunity, I know I have the right guy on the mound."
Eager was awarded Most Outstanding Player for his performance on the bump. 
Eager and West Monroe kept St. Amant off of the board for six straight frames after giving up six in the first. The combination of shortstop Caleb Little and second baseman Trent Anderson made the Gators earn every hit up the middle. Whether it was Little stretching to turn a "bloop" single into an out or Anderson showing his range by drifting toward the second base bag before turning to get St. Amant's Lee Amedee out at first, the Rebels defense made every play it needed to.
"I'm telling you this infield is not only the best in the state, but it's as good as any D1 college. They made play after play after play," Simoneaux said.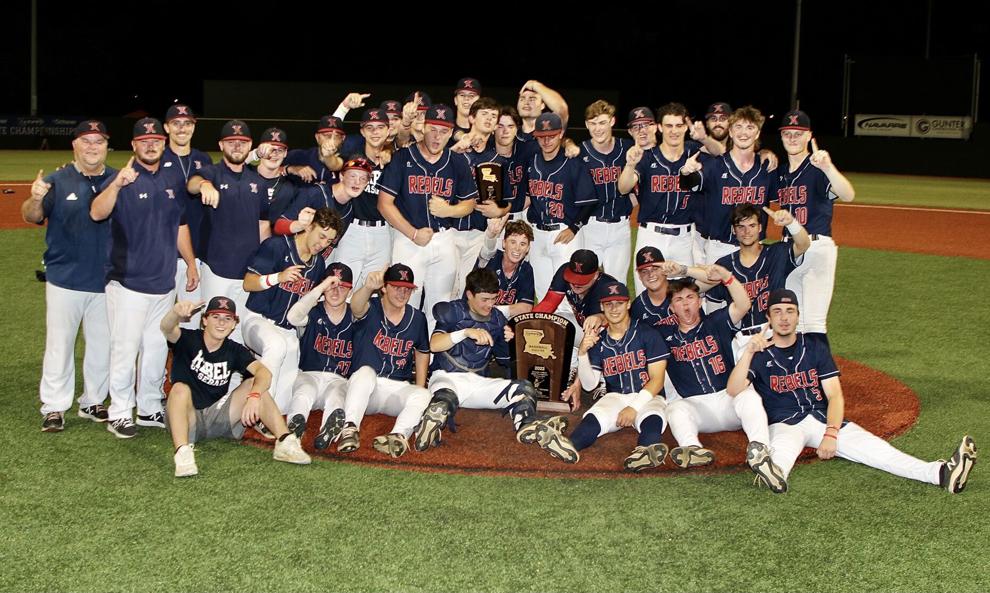 West Monroe had just about the most dreadful start one could have in a championship contest. St. Amant sent 11 batters to the plate in the first inning and tallied six runs on four hits and four walks. Edwards was pulled after giving up four earned runs on two hits and two walks. St. Amant's leadoff batter Amedee led off the game with a homer and then hit an RBI single in his second at bat in the inning.
The message from Simoneaux was simple after the first inning — "Grind."
"They grind, man," Simoneaux said. "I love them. They became a team. We might be the dumbest team to ever win state, but I love them. They fought, man."
The tide turned with one swing of the bat. Down 6-1 in the third inning, Caleb Ross came to the plate for the most important at bat of his career.
And with that swing of the bat, Ross knew it instantly. As soon as the ball touched the barrel and leapt off the bat, Ross tossed it to the side and threw his arm in the air. His grand slam put the Rebels right back in the fight, as St. Amant's 6-1 lead was suddenly cut to a one-run advantage.
"I knew coming to the batter's box, he had thrown fastball both times away, so I had a feeling he was going to try and sneak one in on me," Ross said. "I was sitting on inside fastball and I got it. When you see that come off the bat like that, you just know."
As the bottom half of the frame came to a close, the cowbells were clanging, and that triggered the beginning of an epic rally. 
The Rebels finished the season with a 33-4 overall record.